WRO in Germany
750+ teams, 40+ regional events, 500+ volunteers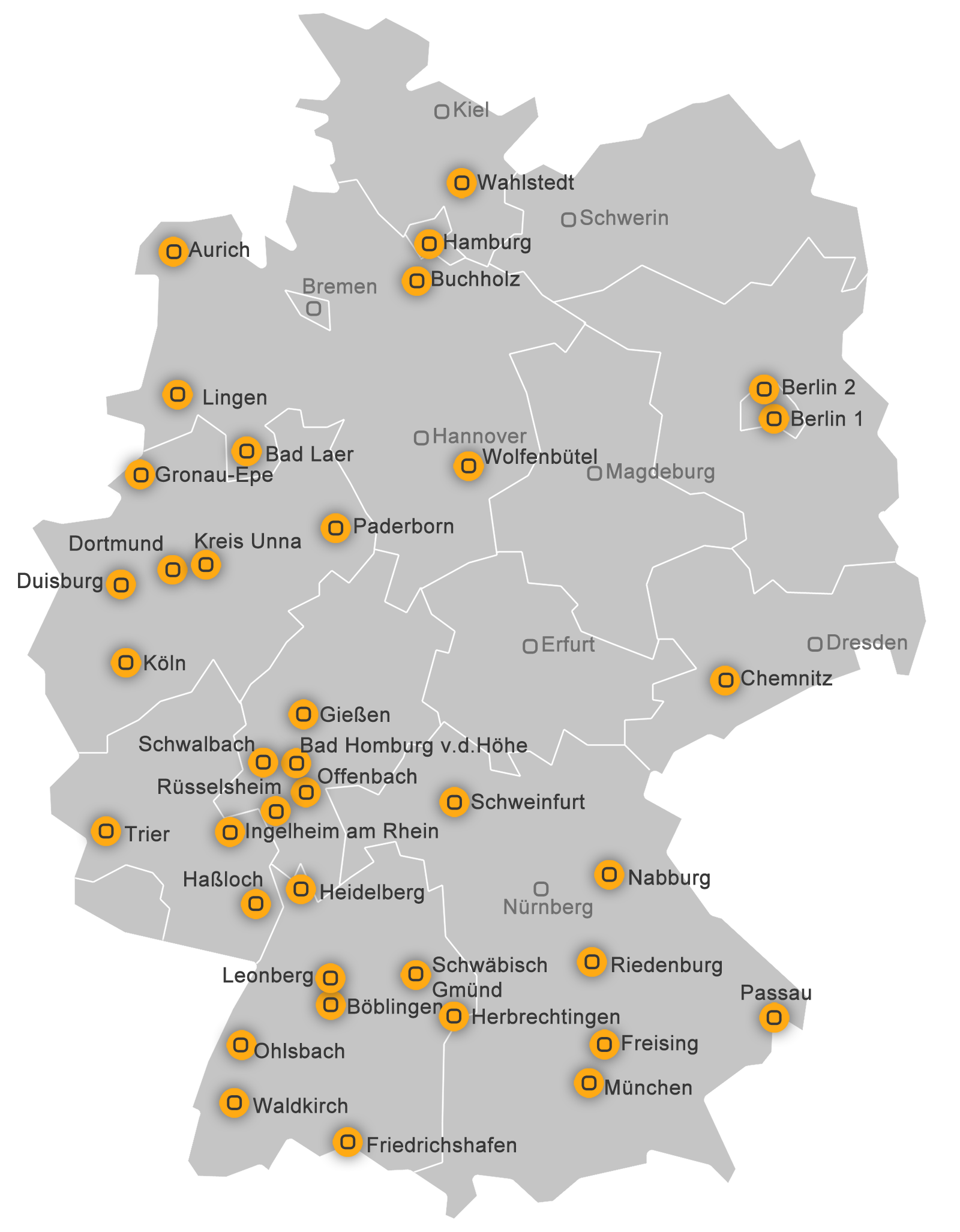 World Robot Olympiad in Germany has a long history. The first competitions started in 2009, and since 2012 the WRO in Germany has been coordinated by our non-profit organization TECHNIK BEGEISTERT. Since then, we have expanded the competition from 32 teams in 2012 to over 760 teams in 2019.
In the process, we have grown continuously, on the one hand offering additional age groups or competition categories and on the other establishing local competitions in new regions in Germany. Now, we have regional WRO competitions in 40 cities (you can see on the map) and a major German final in a different city every year.
The WRO community in Germany consists of a large community of partners and volunteers who work year after year to get children and young people excited about technology. Hosting the World Final in Germany is a highlight for all of us and we look forward to welcoming you all to Germany.
Photo: Map with WRO tournaments in 2022 (one tournament in every city with a yellow circle).
National Organizer
TECHNIK BEGEISTERT
TECHNIK BEGEISTERT (in English: Technics inspires) is a non-profit organization that was founded in 2011 by young adults with the motivation to pass on their own enthusiasm for robot competitions to other children and young people. We have built up the WRO competitions in Germany with a lot of commitment, energy and passion.

Our vision: We know from our own experience how valuable the experience of robotics competitions can be. You learn how to build and programme a robot, how to work in a team, how to work under time pressure, you can travel to other cities/countries for competitions and make new friends in the process. The core objectives of our organization can be summarized as:
We want to introduce children and young people to technology
We want to make robotics competitions available for more people
We want to promote the next generation of STEM students in Germany
We want to pass on our own enthusiasm and experience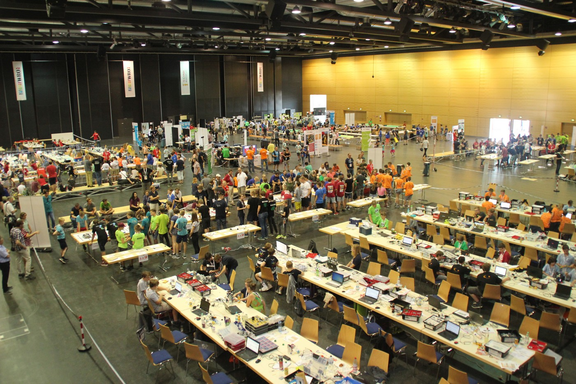 Our activities: Currently, we have 60 members and work with 40 partners and 500 volunteers throughout Germany. Organizing WRO is the biggest project. In addition to the WRO activities, we are involved in various robotics topics, here is a selection of other activities:
Helping schools in setting up robotics activities
Doing workshops or trainings, mainly with teachers
Develop other robotic concepts or learning materials
Help as judges at other events / competitions
Photos: German Final 2018 (top), Volunteers at German Final 2019 (bottom).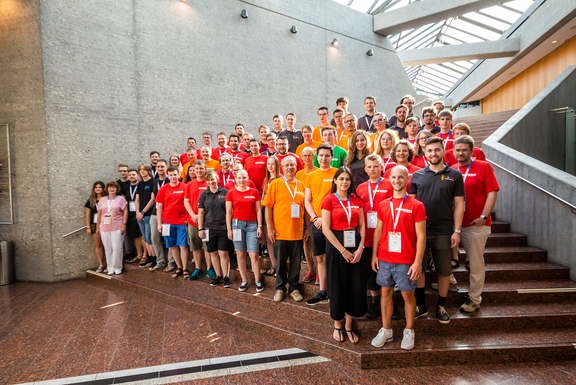 Why WRO International Final in Dortmund?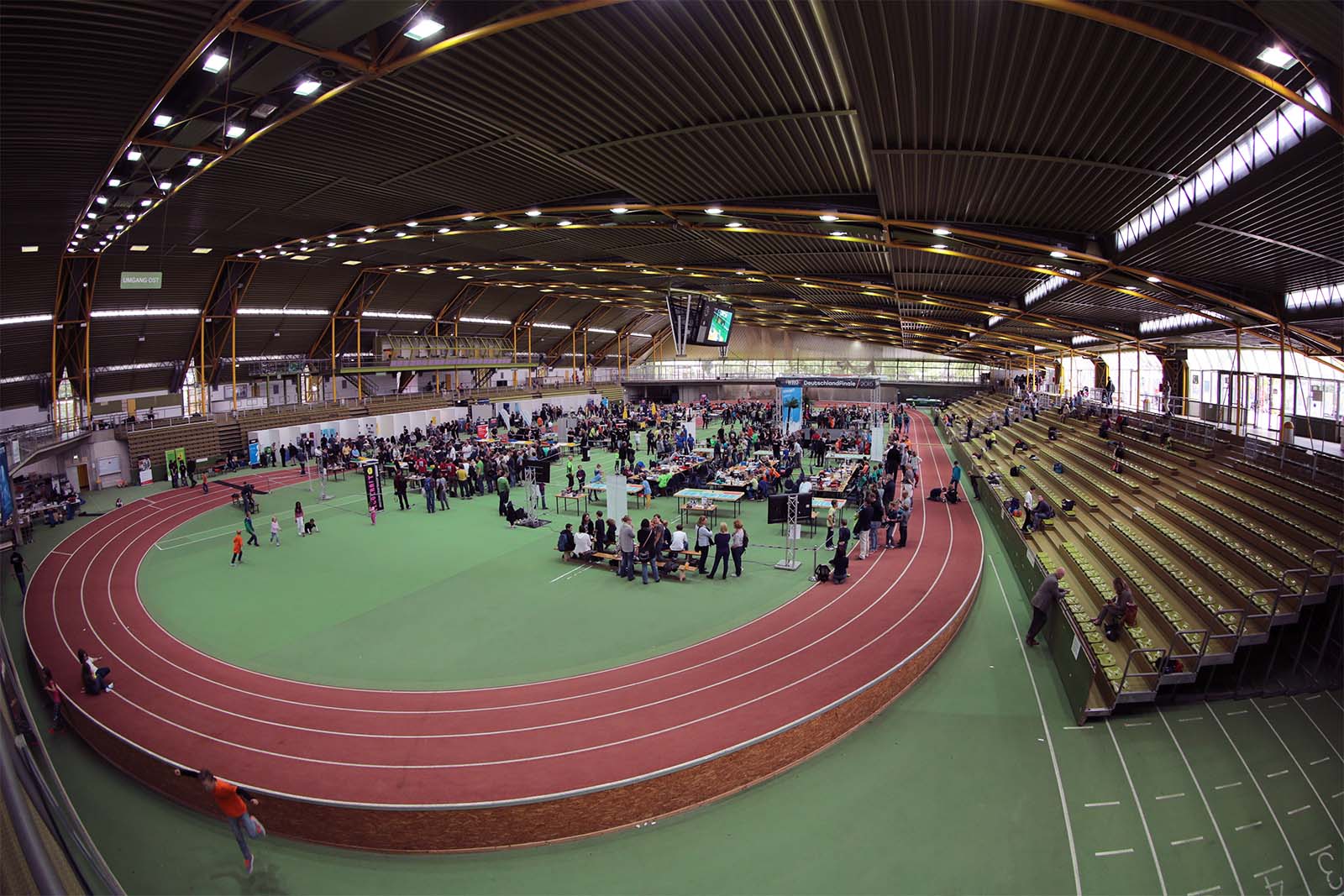 We have a long cooperation with the city of Dortmund. Dortmund was the venue for the first three German finals in 2013, 2014 and 2015, and from the very beginning there was support from politicians and other players in the city. Together with the city owned Dortmund Talent Initiative, we won the Google RISE Partnership Award in 2014 and supported schools in Dortmund and established a robotics network of schools. Being in Dortmund with the International Final fits well with our WRO history in Germany. Together with our partners from politics, companies, foundations and society we want to make the first WRO International Final after Covid-19 a wonderful experience for everyone.

Photo: German Final with more than 100 teams in Dortmund.