Public Transport in Dortmund
This year, there will be no central organization of transport from the airport to hotels or from hotels to the venue by the Host Country or WRO. The country delegations must arrange their travel to the event. This page should give you information about public transport options in Dortmund to the venue. If you want to get information on how to get to Dortmund (which airports etc.), please visit this page.
Public transport ticket
Only registered persons will get this ticket
For easy travelling in the region all registered people will get access to an online ticket for public transport from 15.11.-20.11 for the regional "VRR area". You can view the ticket area on the website of the local transport association (you can use every white area). The most important information for you:
Only registered persons will get the ticket as a PDF after the registration and before they start travelling. It is a special event ticket which would be more expensive if you would buy this for your travel on your own.
You can take any bus, tram, regional/local trains in this area (but no high-speed trains! - they are called ICE, IC or EC).
For example, you can take a regional train from Düsseldorf airport (DUS) to come to Dortmund. Trip to Dortmund central station takes approx. 50 minutes.
For example, you can take a regional train from Bochum or Essen to the event, if you have your hotel in these cities.
For people that arrive at Dortmund (regional) airport. Please note, that the AirportExpress and AirportShuttle busses are not included in the ticket as these busses are operated by private companies. You can take normal Dortmund city busses from the airport to the city.
On the event days, you can use this public transport ticket to come to the event.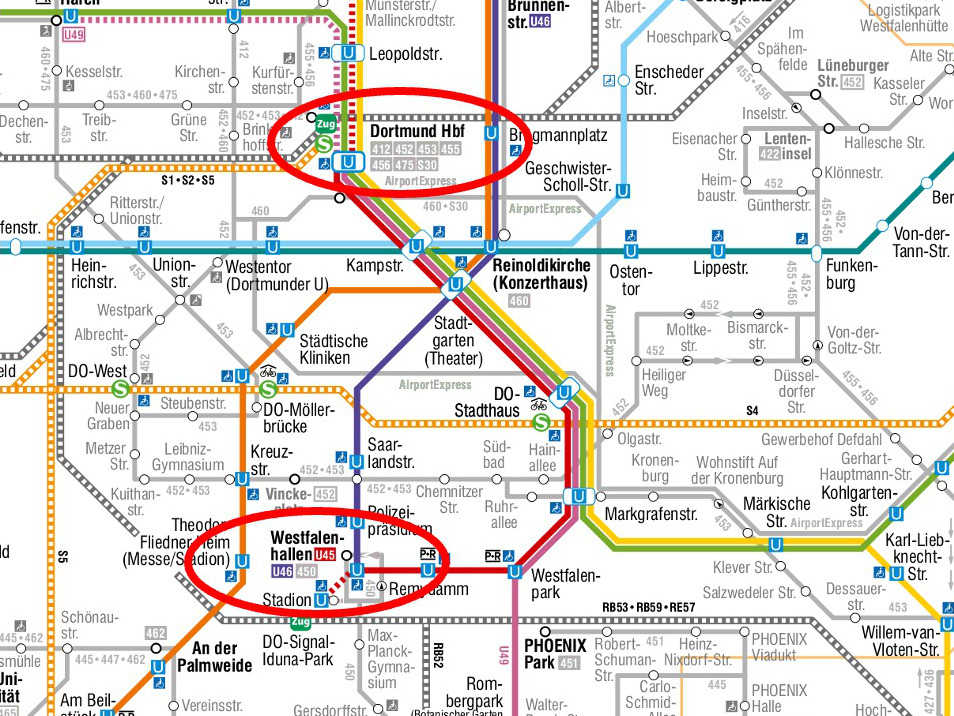 Getting to the venue in Dortmund
The easiest way to get around in Dortmund is via public transport. The whole city is connected by buses and the so-called Stadtbahn – a mixture of tram and subway. Messe Dortmund, venue of the World Robot Olympiad, is next to the station "Westfalenhallen" with connections to the central station and the city center. For example the map below shows Dortmund main station and the station near the venue with a red circle, you can click here to view this on GoogleMaps as well).

Many hotels are close to Messe Dortmund and the venue ist just a 30 minute walk from the city centre - a great possibility to get some fresh air and explore some parts of Dortmund on your own.

Info PDF: Station to venue